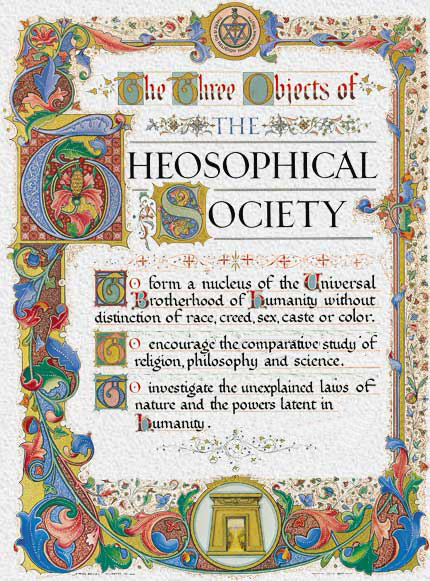 02 Oct

The Oakland Theosophical Society celebrates 117 years!

Happy 117th to Oakland Theosophical Society!!  We'll have a small cake for those of you that make it to the SD class

this Saturday, October 3rd, 2015

.

The

Fundamental Theosophy

class is on hold until November as our very own Peggy, who gives the class, will be traveling to Salt Lake City with David Bruce and another Theosophist to represent the Society at the

Parliament of Religions.

 How exciting is that?!!  She has the next three future Fundamental topics ready to go.  

These concern: the Seven Planes, the Monad, and the Seven Principles of Man (the Thinker).  

We'll have a great report from her in November at the annual meeting as well as an update from Garrett regarding his recent trip

Also Nan is back from her trip and we look forward to a briefing on spiritual and other happenings in South America.

Lastly:  Nicole will be giving a short course in maintaining our new website,  should you like to attend on the 10th in Richmond at our Library location in St. Raphael's Liberal Catholic Church.  Time: TBD

Class / TEXT:

 1:30 PM – The Secret Doctrine, roughly pages 145 – 160 of volume 2, Anthropogenesis.  Try to reread 145 if you are able – it was packed with good discussion points. This will wrap up the section so that we're able to start on 161 STANZA VII.

' (24) The higher creators reject in their pride the forms evolved by the "Sons of Yoga" (25) They will not incarnate in teh early "Egg-born."..'

Our  SD  class will be held 

in the Mezzanine (Meeting Room and home of our TS Library) of St. Raphael's 

Liberal Catholic Church.

      

The address is:    332  HARBOUR  WAY, RICHMOND, CA

The best way to enter is from the parking lot in back on 11th street. 

Just follow the stairs up to the next floor.  

If you arrive at the front, please call Tami's cell as the door is locked. 

707.418.8006

If you take I-80 past Albany and then 580 toward San Rafael, about the 4th exit 

is Harbour Way North.  Follow it about a mile to downtown, just past MacDonald Ave. 

Or take I-80 to MacDonald exit and follow it for 2 miles or so, northwest.

Call if you need help or in case you find the doors locked:   707.418.8006

ONLINE:

We look forward to seeing or hearing from you – ALSO – we may be able to get you in via Skype, or Google + Hangouts if you are unable to come physically but would like to attend – make sure to let us know in advance so things can be hooked up and ready.